Product Detail
Product Tags
Inboard flight bar, outboard flight bar, twin chain flight bar, triple chain flight bar, single chain flight bar, flight bar chain system, flat type link chain, forged flight bar mining chain conveyor flight bar, din 22259 flight bars for use in chain conveyors in mining
Flight bar types can be classified as below, from its popularity:
Inboard flight bar
Outboard flight bar
Twin chain flight bar
Triple chain flight bar
Single chain flight bar
Armored Face Conveyors (AFC),Beam Stage Loaders (BSL)

Typical flight bars can be made to Chinese MT/T 323 standards or DIN 22259, which are widely used in face conveyors and beam stage loaders. Clamps (with quality bolts & nuts) fitness with flight bars has well taken into consideration the dimensional fitness, easy assembly and required mechanical properties.
More types flight bars and scraper bars to clients specifications / designs can be supplied.
Figure 1: flight bars type A / B / C / D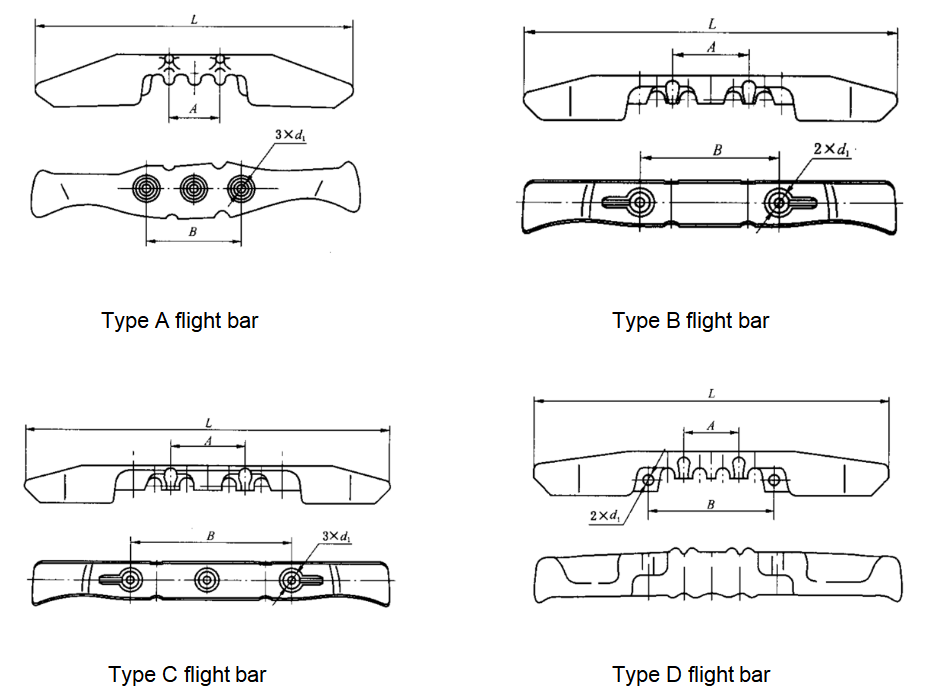 Table 1: flight bar type A dimensions for twin inboard chain conveyor (mm)
chain size
d x t

length
L

chain C-C
A

bolt C-C
B

d1

22 x 86

574

110 (±0.5)

220 (±0.5)

26

26 x 92

577

120 (±0.5)

240 (±0.5)

666

674

708

710

710

140 (±0.5)

275 (±0.5)

30 x 108

674

130 (±0.5)

260 (±0.5)

708

710

764

140 (±0.5)

275 (±0.5)

33

34 x 126

754

180 (±1.0)

348 (±0.5)

786

160 (±1.0)

320 (±0.5)

915

200 (±1.0)

400 (±0.75)

26
Table 2: flight bar type B, C & D dimensions for twin inboard chain conveyor (mm)
chain size
d x t

length
L

chain C-C
A

bolt C-C
B

d1

14 x 50

388

60 (±0.5)

160 (±0.5)

17.5

390

486

22 x 86

574

90 (±0.5)

250 (±0.5)

26

26 x 92

674

100 (±0.5)

280 (±0.5)

26

710

34 x 126

786

200 (±1.0)

400 (±0.75)

26

884

886

984

988

38 x 137

984

200 (±1.0)

400 (±0.75)

26

1184

240 (±1.0)

460 (±0.75)

33

42 x 146

984

220 (±1.0)

440 (±0.75)

33

42 x 152

984

220 (±1.0)

440 (±0.75)

33

48 x 152

984

280 (±1.0)

520 (±0.75)

33

1184
---
Previous:
flat link chain
Next:
chain connectors
---